Hello I am Fionn and I've come from the UK to be artist in residence at Ongoing for the next couple of months.
'A tempest of heat. The brain's evaporation is a possibility.'
I think Etel Adnan may have been describing summer in Tokyo, my scottish skin is slowly acclimatising to the heat and gradually thoughts are becoming more viscous.
A few notes from the last 7 days:
- I went to the park and heard a boy practicing his saxophone I like the sound of tuning an instrument .:
play, adjust, play, think, adjust, play, adjust, think, play, think, adjust and on and on and on
-. The sound of cicadas roars every time you pass by trees Do you ever get used to it?
how could you replicate the sound of cicadas? A bicycle wheel on a motor? clickclickclick
- Lots of lines, electricity wires, clothes lines, fences, doorways, unfamiliar lines in the road, the strokes of written text.
-.Masahiro Wada exhibition in Shibuya that Abe-chan told me to go to, she was right, it was interesting. I particularly liked the installation of the screens, watching both at once, on different levels, simultaneously.
- A sword made from meteorite, a jomon pot, ufos and a moon song all at the Mori Museum.
and finally a piece I liked from an exhibition at Coexist Gallery. I think it's by Yuko Ozawa, recording the sound of headphone wires.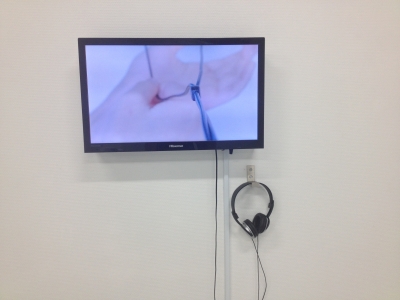 Calendar

1
2
3
4
5
6
7
8
9
10
11
12
13
14
15
16
17
18
19
20
21
22
23
24
25
26
27
28
29
30
Selected Entries
Categories
Archives
Recent Comment
Links
Profile
Search this site.
Others
Mobile
(C) 2020