2015.11.26 Thursday
Hello Im Deirdre and a bad Blogger
Im not sure if I'm doing this right but here goes lets try!!!
Firstly hello!
I am here in Tokyo from Belfast, in the north of Ireland. I arrived on the 25 of October and will stay until the 22 of december. Tokyo is amazing so many things to do and see that it hard to know where to start. so I'm gonna paste some information about my practice and a few image to give you a taste.
oh and last night i did a talk at the wonderful 3331, i really like this space.
Biography
Deirdre McKenna, born. Dublin Ireland 1973, is based in Belfast, N.Ireland. McKenna's practice incorporates sculpture, installation, lens, audio, painting and curation. She studied Fine Art Painting at the University Of Ulster, Belfast. She acted as a co-director of Catalyst Arts between 2002 and 2004 exhibiting, organising and collaborating. She returned to study a masters in fine art at the University of Ulster, graduating with distinction in 2007. She received the RUA Prize Outstanding Student Award and Dean's Prize. McKenna is a studio holder in Flax Art Studios, Belfast, and is represented by the Golden Thread Gallery, Belfast. McKenna has exhibited nationally and internationally with her work being exhibited at the Scope New York & London Art Fair. McKenna's work is part of the Arts Council of Northern Irelands collection and numerous private collections, and has been featured in many international art journals Sculpture Magazine USA, Circa Ireland amongst others
Recent exhibitions; FE McWilliam, Banbridge. Kaohsiung Museum of Fine Arts, Taiwan.
Upcoming; Art Center Ongoing, Tokyo, Japan 16 December 2015
The nature of my work stems from my desire to visualise stories, while allowing room for the viewer to extend upon the narrative or meaning. I make work that is of an auto/biographical nature, preferring to take a more oblique angle. The outcomes of my practice, results in a broad material, visual & conceptual manifestation. I feel a great need to be free of a "signature" type approach to what I do, and aim to offer viewers a vision of something with integrity, both in its conceptual value and artistic realisation. Each work has its own statement to make.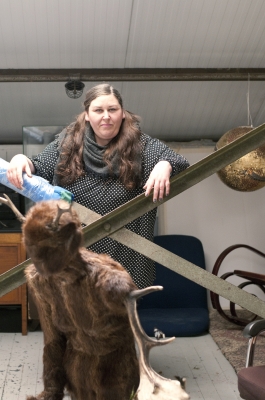 Calendar

1
2
3
4
5
6
7
8
9
10
11
12
13
14
15
16
17
18
19
20
21
22
23
24
25
26
27
28
29
30
Selected Entries
Categories
Archives
Recent Comment
Links
Profile
Search this site.
Others
Mobile
(C) 2020